Hawaii Wedding Vow Renewals
Bridal Dream Hawaii
A Hawaiian Vacation is a perfect opportunity to get married to your partner all over again.
Do you remember the thrill of your wedding day? Well, you can experience the thrill again as you renew your wedding vows in Honolulu, Hawaii.
Maybe the busyness of life has caused you to forget your romance. Or you may need a fresh start after some difficult times. Some couples like to tie the knot over again after long deployments overseas have kept them apart. Whatever your situation, coontact Bridal Dream Wedding Company if you wish to renew your Wedding Vows in Honolulu.
See our Hawaii Vow Renewal Packages below:
Waikiki Vow Renewal
Wedding Minister
Photographer
50 Photos
MON-FRI: $299.00
SAT-SUN: $399.00

*You may want to add 2 Flower Leis for $40.00, or a Bride's Orchid Bouquet for $99.00.
Deluxe Vow Renewal
Wedding Minister
Photographer
100 Photos
Orchid Bouquet
Cake & Sparkling Juice
Vip Transportation to Kahala Beach
MON-FRI: $599.00
SAT-SUN: $699.00

Our Photographer will begin shooting your Photos as soon as you arrive at your Wedding Vow Renewal location, as well as during and after the Ceremony, for about an hour.
You may pick and choose from among our ala carte options to make up a package of your own.
WEDDING OPTIONS ($99 each)



Add flowers, cake or live music to your Hawaii Vow Renewal for only $99.00 each.
We will upload your full-resolution photos for you to view and download right to your own computer at DropBox.com.
LETTER TO YOUR PARTNER
You may wish to write a letter to read to your partner during your Vow Renewal ceremony. You can talk about how you met, how you felt on your wedding day, what first attracted you, what still attracts you, difficulties you've faced together, anything you're sorry for, or grateful for, what you look forward to, or anything else that is meaningful in your relationship.
Children are an important part of a family, but your relationship must have more in common than children to last your retirement years. A vow renewal is a great time to revive the good memories and create new ones, and to find something in common for the two of you as a couple.
TESTIMONIALS: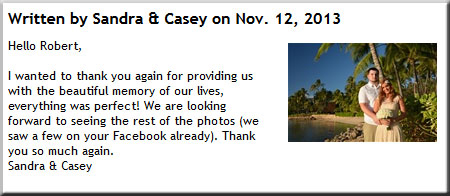 The Vow Renewal Package is available every day. Other locations further away from Honolulu, such as Kailua & Lanikai, Ko Olina, and the North Shore will be an extra charge for travel fees.
Kailua, Lanikai, or Waimanalo - add $100.00
Ko Olina add $150.00, or add $200.00 for vow renewals on the North Shore -
Ceremonies at 5:00pm or later will be our weekend/holiday rate.
Transportation from Waikiki to Magic Island or Kahala Beach may be added to your Vow Renewal package for $50.00.
Hawaii Tax of 4.712% is added to packages and ala carte services.
For couples spending their Anniversary in Hawaii, we have a special offer!
See: HAWAIIAN ANNIVERSARY PHOTOS
We also offer FAMILY PHOTOS for memories of your trip to Hawaii with your children.
See: HAWAII VACATION FAMILY PHOTOS
See other Wedding Packages at:
www.bridaldreamhawaii.com/packages.html
*Our Hawaii Vow Renewal package is already discounted, so we are not able to offer Military discounts for this package.
Most Popular Wedding Locations:
1. Waialae Beach Park
2. Magic Island
3. Ko Olina
In Hawaii do you need a marriage license to renew your wedding vows?
Short answer: No, a Marriage License is not needed for a personal vow renewal ceremony in Hawaii.

Bridal Dream Wedding Company
Box 23311, Honolulu, HI 96823
Office: (808)924-3600
Cell: (808)772-1140
Fax: (808)356-0806
bridaldreamhawaii@gmail.com